The new University Hospital of Salamanca begins its care work by increasing health services in the city and providing population coverage with 507 rooms and 863 beds, 25 state-of-the-art operating rooms, 170 consultations, 98 Day Hospital positions, 72 Resuscitation positions or the 12 posts of the Obstetric Block, in addition to the new radiodiagnosis and radiotherapy equipment (Magnetic Resonances, interventional radiology, Nuclear Medicine or Tomotherapy).
Designed and built as an ergonomic building, in which the spaces for patients and medical equipment have been humanized, different architectural techniques have been used to transform and consume energy in a sustainable way with the environment; and, above all, it has been conceived from a liquid perspective, according to the Regional Health Minister, providing it with flexibility for unforeseen events, peaks in demand or hospitalization or a greater turnover of patients to reduce their hospitalization period.
The operating room area and the obstetric block incorporates more than fifty Hermetic Doors, with automatic swing and sliding opening, of the HS-201, HS-201/45, HS-401 and HS-402B models; with specific lead coating and protection depending on the radiology team and the surgical procedure. Grupsa hermetic doors have a tested hermetic closure, according to EN 1026: 00 Class 4 and EN 14426 Class 6, to maintain the positive and negative pressure differential of the rooms, providing operation with depression or overpressure with respect to the zones general that prevents the spread of pathogens to the outside or the introduction of germs in immunosuppressed patients. In addition, Grupsa HS-Q3 Observation Windows have been incorporated, which enable visual control of the room by the medical team from outside the operating room.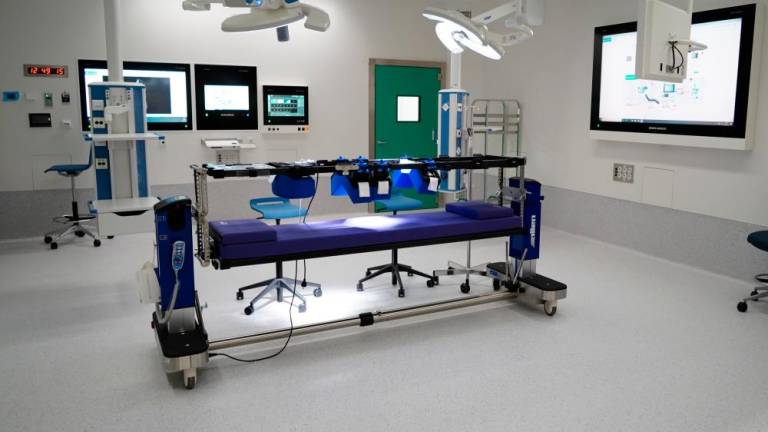 The pedestrian access located in the hospital evacuation routes are equipped with automatic sliding door systems from Grupsa's Automatic System range with AG90 / 200 ER operator for escape routes, self-tested and with PL "d" level certification according to UNE Standard -EN 13849-1: 2008 / AC: 2009; equipped with monitored RS150-D sensors and approved evacuation buttons for emergency exits, with door opening in closed position. The main entrances to the building have automatic revolving door systems Rotary System from Grupsa model RS-100 with bidirectional folding of sheets, which optimize energy savings in the reception hall, as well as air conditioning costs and electrical consumption, eliminating drafts of air and prevents temperature fluctuations.
Grupsa has its own Technical Service to offer the market the preventive and corrective maintenance necessary to guarantee the optimal and effective operation of the sanitary facilities, with training for hospital maintenance technicians in the daily tasks of use, cleaning and maintenance of equipment installed.